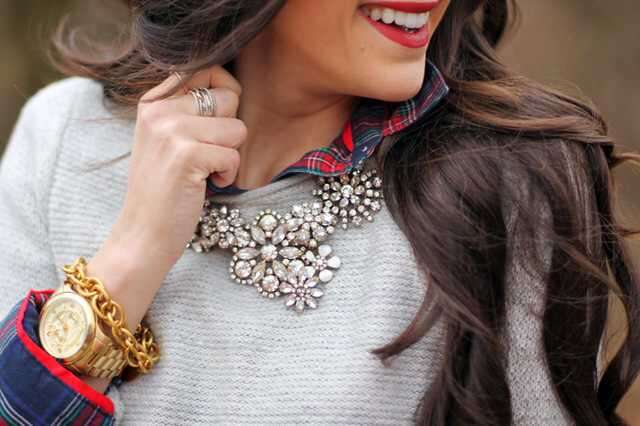 The Best Jewelry for Winter: Protecting Your Precious Gems and Metals
When the winter season arrives, it's time to bring out your most exquisite jewelry pieces to complement your cozy and fashionable winter outfits. However, the cold and harsh weather conditions during this time of year can pose a threat to the longevity and luster of your precious jewelry. To ensure your favorite rings, anklets, bracelets, earrings, necklaces, and other jewelry items remain in pristine condition, it's crucial to know the best places to protect them. In this article, we will explore some of the ideal locations to safeguard your jewelry during the winter months.
1. Jewelry Boxes with Soft Linings: 
Investing in a high-quality jewelry box with soft linings is an excellent way to protect your jewelry from scratches, tarnishing, and other potential damages. Opt for boxes with individual compartments to prevent pieces from tangling. Look for boxes made of materials such as velvet or felt, as they provide a gentle cushioning effect and help maintain the shine of your gold and silver jewelry.
2. Jewelry Armoires: 
If you have an extensive collection of jewelry, consider investing in a jewelry armoire. These large cabinets are specifically designed to store and protect your precious pieces. Most armoires feature multiple drawers, hooks, and compartments, allowing you to organize your jewelry systematically. Additionally, many armoires have built-in mirrors, making them both functional and stylish.
3. Safe Deposit Boxes: 
For those with exceptionally valuable or sentimental jewelry, renting a safe deposit box at a bank is an ideal choice. Safe deposit boxes offer an extra layer of security, protecting your jewelry not only from winter-related risks but also from theft or accidents. Banks typically have top-notch security systems and climate-controlled environments, ensuring your jewelry remains in optimal condition.
4. Jewelry Travel Cases: 
If you're planning a winter getaway, a jewelry travel case is a must-have. These compact and portable cases provide a safe and organized way to transport your jewelry. Look for cases with padded interiors and secure clasps to prevent any damage during transit. Some travel cases even come with built-in locks for added security.
5. Jewelry Drawstring Pouches: 
For those who prefer a more minimalist approach, jewelry drawstring pouches are an excellent option. These soft fabric pouches are lightweight and easily fit into your handbag or pocket. They provide protection against scratches and keep your jewelry separate from other items. Drawstring pouches are particularly useful for storing smaller pieces like earrings or delicate necklaces.
Remember, winter weather can be harsh on your jewelry, especially gold and silver pieces. The cold air, snow, and moisture can accelerate tarnishing and dull their shine. By storing your jewelry in the right places, you can prevent damage and ensure they remain in their best condition for years to come.
Whether you choose a jewelry box, armoire, safe deposit box, travel case, or drawstring pouch, always ensure your jewelry is clean and dry before storing it. Avoid exposing your jewelry to extreme temperature changes or direct sunlight, as these factors can also impact their appearance and integrity.
In conclusion, protecting your jewelry during winter is crucial to maintain its beauty and value. By utilizing the appropriate storage options such as jewelry boxes, armoires, safe deposit boxes, travel cases, or drawstring pouches, you can safeguard your rings, anklets, bracelets, earrings, necklaces, and other precious pieces from potential winter-related damages. Remember, a little extra care goes a long way in preserving your beloved jewelry collection throughout the winter season and beyond.